Hotel*** restaurant La Bonne Famille in Sarrazac
on the borders of the Lot and Corrèze
In a refined natural discretion, the Guerby-Aussel Family elaborate a table where the stars slip into their eyes with a silent quietude. This is the Good Family. Hush ! We are happy.
Hotel ***
Hotel with swimming pool
Put down your bags, relax and enjoy one of our 10 quiet and spacious rooms. Many rooms are at your disposal. And all around the hotel you will find a garden, a relaxation area, a swimming pool and a tennis court.
All the rooms are in an annex building, they are simple and functional and all have a shower, toilet, television and free WIFI. Rooms not adapted for disabled persons.
Restaurant
an enlightened and refined cuisine
The cuisine is excellent, which probably explains the longer than normal service, but which forces us to discover, feel and sense the surprising tranquility of the place. Stéphanie is confident, discreet, benevolent and smiling. She contributes to the enchantment of the setting with a salutary authenticity.
Jean-Baptiste and Michel approach their piano, their keyboard and their score with the same character, the same passion. Bourgeois cuisine, almost rural, but enlightened by refined notes based on simple and above all, local products.
The restaurant is adapted to receive people with reduced mobility.
WINE CELLAR OF THE GOOD FAMILY
Let yourself be tempted by our selection...
Artisanal wines and gourmet, seasonal cuisine: here is a summary of what you can find at La Bonne Famille!
A little nugget nestled in the restaurant, the wine cellar is a tour of France's finest bottles, with a special focus on southwestern, organic, biodynamic and natural wines. More than 250 references.
All the wines on the menu can be tasted on site or taken away.
Once upon a time Sarrazac
Tourism in the Lot
This is how one could approach this small village, near Martel, in the Lot, nestled in a small valley in harmony with nature.
A magical village, almost like a child's dream. An old Romanesque church around which sleep stone houses with warm colors, slate roofs that sign a region away from modern troubles. Not so far from the Corrèze lands.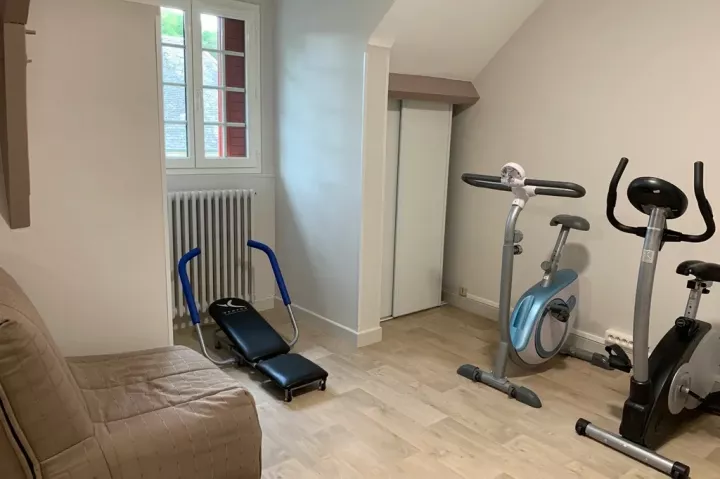 Our relaxation areas
swimming pool, sauna, fitness room
Take advantage of your stay at La Bonne Famille to relax in one of our relaxation areas.
Arrival & Departure
Arrival from 05pm, Departure at 10:30am
Discover our news
Logis hotel in Quercy
Nearby, the remains of a Templar castle continue the secret stories, as do those of Croze, Chabannes and Muzac.
It is here that the Guerby-Aussel family perpetuates a tradition, almost a legend: the hotel-café Aussel has become a renowned restaurant with the coveted name of "Bonne Famille".
Here the local children still say "hello". The old-fashioned facade, with its many charms, and the terrace, which dates back to the past, awaken the pastels.
One respects the farmer, the notary and the bookseller. One crosses some foreign accents and the guest book is in good place with some selected letters: "a four stars of simplicity and kindness" one can read there. The establishment has a soul, a real one. This former blacksmith's house was transformed into a café hotel in 1922 by the grandmother. The second generation was avant-garde and built a swimming pool in 1972 and a tennis court in 1980.
The third generation, that of Chantal and Michel, works to ensure that the acquired know-how is respected.
And here is the fourth generation, Jean-Baptiste and Stéphanie. An atmosphere that almost makes you want to keep this address with its obvious charms to yourself. But when you are a gourmet of life, a gourmet of the senses, a gourmet of beneficial flavors, you can't resist describing this delicious destination. A little wonder without any blind spot, without a single disappointment.
Hotel with 10 rooms
Free WIFI
Free private parking
Pets allowed: paying at the hotel / free at the restaurant
Hotel not accessible to people with reduced mobility
Restaurant accessible to people with reduced mobility
Outdoor swimming pool
Playground for children
Sauna and fitness room
Vacation vouchers accepted